Característica bromatológica y morfológica de las plantas forrajeras
Resumen
Para una mejor decisión en relación con la elección de los forrajes, es importante conocer sus características bromatológicas y morfológicas, ya que este conocimiento puede llevar a una mayor productividad y calidad del forraje de masa seca. Este trabajo tuvo como objetivo evaluar las características morfofisiológicas de las plantas forrajeras, específicamente Urochloa brizantha cv. Xaraés / MG-5; Urochloa brizantha cv. Marandu; Panicum maximo cv. Mombaça; Urochloa brizantha cv. BRS / Piatã; Urochloa brizantha cv. Paiaguás. El experimento se llevó a cabo en la Facultad de Ciencias Agrícolas y Tecnológicas, Dracena, São Paulo, Brasil, mayo de 2015. Se realizaron análisis bromatológicos, fisiológicos y morfológicos de las hojas. El cultivar Urochloa brizantha cv. Marandu sobresalió en materia mineral (MM%); y Xaraés para fibra dietética en detergente ácido (FDA%). El cultivar Urochloa brizantha cv. Xaraés / MG-5 se distinguió en el parámetro de espesor de la epidermis adaxial (TAdE), espesor de mesofila (MT); diámetro del floema de la hoja (LDP) y diámetro del xilema de la hoja (LDX). El cultivar Urochloa brizantha cv. Paiaguás resaltó en el parámetro espesor de la epidermis abaxial (TAbE). En general, el cultivar Urochloa brizantha cv. Xaraés / MG-5 presentó los mejores resultados en cuanto a las características morfológicas de las plantas forrajeras estudiadas.
 
Citas
Banzatto, D. A. & Kronka, S. N. (2013). Experimentação agrícola. (4° ed.). Jaboticabal: FUNEP.
Bazame, H. C., Pinto, Francisco A. C., Queiroz, D. S., Queiroz, D. M. & Althoff, D. (2020). Spectral sensors prove beneficial in determining nitrogen fertilizer needs of Urochloa brizantha cv. Xaraés grass in Brazil. Tropical Grasslands-Forrajes Tropicales., 8(2), 60-71. doi:10.17138/tgft(8)60-71
Cabrera, J. C. B., Hirl, R. T., Schäufele, R., Mcdonald, A. & Schnyder, A. (2021). Stomatal conductance limited the CO2 response of grassland in the last century. BMC Biology, 19(50), 1-14. doi: 10.1186/s12915-021-00988-4
Carrizo, I. M., Colomba, E. L., Tommasino, E., Carloni, E., Bollati, G. & Grunberg, K. (2020). Contrasting adaptive responses to cope with drought stress and recovery in Cenchrus ciliaris L. and their implications for tissue lignification. Physiologia Plantarum, 172(2), 762-779. doi: 10.1111/ppl.13274
Castro, E. M., Pereira, F. J. & Paiva, R. (2009). Histologia Vegetal: Estrutura e Função de Órgãos Vegetativos. Lavras: UFLA.
Costa, J. P. R., Caputti, G. P., Galzerano, L., Silva, W. L., Ruggieri, A. C. & Malheiros, E. B. (2015). Relative chlorophyll contents in the evaluation of the nutritional status of nitrogen from xaraés palisade grass and determination of critical nitrogen sufficiency index. Acta Scientiarum. Animal Sciences, 37(2), 109-114. doi:10.4025/actascianimsci.v37i2.24854
Deniz, M., Schmitt Filho, A. L., Hötzel, M. J., Sousa, K. T., Machado Filho, L. C. P. & Sinisgalli, P.A. (2020). Microclimate and pasture area preferences by dairy cows under high biodiversity silvopastoral system in Southern Brazil. International Journal of Biometeorology, 64(11), 1877-1887. doi:10.1007/s00484-020-01975-0
Empresa Brasileira de Pesquisa Agropecuária. (2013). Sistema brasileiro de classificação de solos. (3.ed). Brasília: EMBRAPA
Figueiredo, P. A. M., Ramos, S. B., Viana, R. S., Lisboa, L. A. M. & Heinrichs, R. (2013). Morph anatomical changes of sugar cane leaves in phase of establishment under weed competition. Planta Daninha., 31(4), 777-784. doi: 10.1590/S0100-83582013000400003
Figueiredo, U. J., Berchembrock, Y. V., Valle, C. B., Barrios, S. C. L., Quesenberry, K. H., Muñoz, P. R. & Nunes, J. A. R. (2019). Evaluating early selection in perennial tropical forages. Crop Breeding and Applied Biotechnology, 19, 291‒299. doi: 10.1590/1984-70332019v19n3a41
Garcia-Amezquita, L. E., Viacava, F. & Jacobo-Velázquez, D. A. (2020). Analysis of Fiber and Its Components. En Jorge Welti-Chanes, Sergio O. Serna-Saldívar, Osvaldo Campanella & Viridiana Tejada-Ortigoza (Eds.). Science and Technology of Fibers in Food Systems (pp. 71-86). New York: Springer. (Food Engineering Series). doi :10.1007/978-3-030-38654-2_4
Hansen, T. L., Fowler, A. L., Harlow, Brittany E., Hayes, S. H., Crum, A. & Lawrence, L. M. (2021). Modeling digesta retention in horses fed high or low neutral detergent fiber concentration forages. Livestock Science, 11, 1-25. doi:10.1016/j.livsci.2021.104592
Kraus, J. E. & Arduin, M. (1997). Manual básico de métodos em morfologia vegetal. Rio de Janeiro: EDUR. Editora Universidade Rural.
Lisboa, L. A. M., Dias, G. H. O., Sacco, H. A. A., Padovan, J. V. R., Rodrigues, G. B., Ribeiro, K. B., Silva, G. G., Cardoso, A. S., Pereira, L. B. & Figueiredo, P. A. M. (2021). Urochloa brizantha cultivated in aluminum-toxic soil: changes in plant growth and ultrastructure of root and leaf tissues. Tropical Grasslands-Forrajes Tropicales., 9(1), 23-33. doi: 10.17138/tgft(9)23-33
Luna-Guerrero, M. J., López-Castañeda, C., Carrillo, A. R. Q., Herrera-Haro, J. G., Ortega-Cerrilla, M. E. & Martínez-Hernández, P. A. (2020). Relaciones hídricas e intercambio gaseoso en alfalfa bajo condiciones de sequía. Revista Mexicana de Ciencias Agrícolas., 24, 81-92. doi: 10.29312/remexca.v0i24.2360
Maia, A. G., Eusebio, G. S., Fasiaben, M. C. R., Moraes, A. S., Assad, E. D. & Pugliero, V. S. (2021). The economic impacts of the diffusion of agroforestry in Brazil. Land Use Policy., 108, 1-19. doi: 10.1016/j.landusepol.2021.105489
Malafaia, P. A. M., Valadares Filho, S. C., Vieira, R. A. M., Silva, J. F. C. & Pedreira, J. C. (1997). Determinação cinética ruminal das frações protéicas e nitrogenada de alguns alimentos para ruminantes. Revista da Sociedade Brasileira de Zootecnia., 26(6), 1243-1251.
Meziane, D. & Shipley, B. (1999). Interacting components of interspecific relative growth rate: constancy and change under differing conditions of light and nutrient supply. Functional Ecology., 13, 611–622. doi: 10.1046/j.1365-2435.1999.00359.x
Pezzopane, C. G., Santos, P. M., Cruz P. G., Altoé, J., Ribeiro, F. A. & Valle, C. B. (2015). Hydric deficiency in genotypes of Brachiaria brizantha. Ciência Rural., 45, 871‒876. (In Portuguese.) doi: 10.1590/0103-8478cr20130915
Queiroz-Voltan, R. B., Rolim, G. de S., Pedro Júnior, M. J. & Hernandes, J. L. (2011). Variações na anatomia foliar de videira Niagara em diferentes sistemas de condução. Bragantia, 70(3), 488-493. doi: 10.1590/S0006-87052011005000002
Raij. B., Cantarela, H., Quaggio, J. Á. & Furlani, A. M. C. (1996). Recomendações de adubação e calagem para o Estado de São Paulo. (2.ed). Campinas: IAC.
Rueda, B. L., Mcroberts, K. C., Blake, R. W., Nicholson, C. F., Valentim, J. F. & Fernandes, E. C. M. (2020). Nutrient status of cattle grazing systems in the western brazilian amazon. Cogent Food & Agriculture., 6(1), 1-19. doi: 10.1080/23311932.2020.1722350
Silva, F. A. S. & Azevedo, C. A. V. (2016). The Assistat Software Version 7.7 and its use in the analysis of experimental data. African Journal Agricultal Reserch., 11(39), 3733-3740. doi: 10.5897/AJAR2016.11522
Skamarokhova, A. S., Yurina, N. A., Bedilo, N. A., Yurin, D. A. & Ashinov, Y. N. (2020). Evaluation of the air-dry mass of vetch-cereal grass mixtures according to their optimality in the ratio of neutral-detergent (NDF) and acid-detergent fiber (ADF). E3S Web of Conferences, 224, 1-8. doi: 10.1051/e3sconf/202022404030
Soest, P. J. Van (1994). Nutritional ecology of the ruminant. (2nd ed.). Ithaca: Cornell University Press.
Soest, P. J., Robertson, J. B. & Lewis, B.A. (1991). Methods for dietary fiber, neutral detergent fiber, and nonstarch polysaccharides in relation to animal nutrition. Journal of Dairy Science, 74(10), 3583-3597. doi: 10.3168/jds.S0022-0302(91)78551-2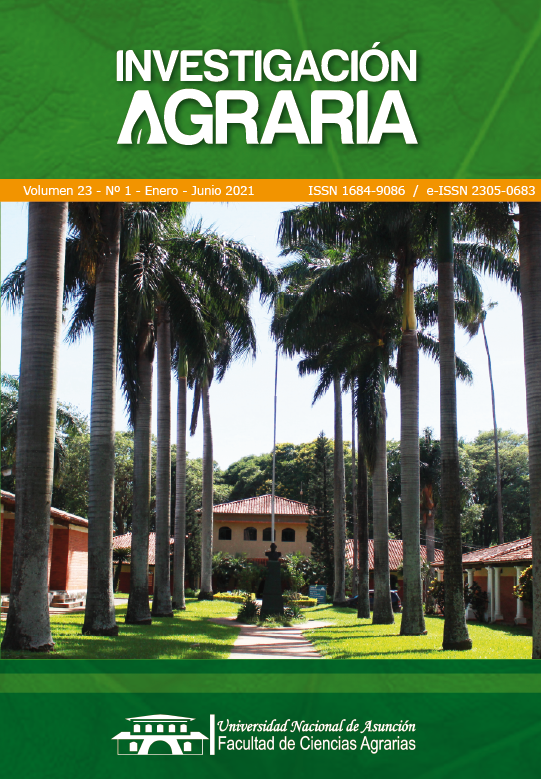 Sección
ARTÍCULOS CIENTÍFICOS
Esta obra está bajo licencia internacional
Creative Commons Reconocimiento 4.0
.
Todo el contenido de esta revista, está bajo Licencia de Atribución Creative Commons.