Control químico de Fusariosis de la espiga del trigo y su efecto sobre los componentes de producción y calidad de granos
Resumen
La fusariosis de la espiga del trigo (FET) producida principalmente por Fusarium graminearum, es una de las enfermedades más importantes para la producción del trigo en Paraguay, no solo por las pérdidas de rendimiento que ocasionan sino por la presencia de micotoxinas en granos. El objetivo del experimento fue evaluar distintos grupos químicos de fungicidas y sus mezclas para el control de FET y su relación con el rendimiento y niveles de micotoxina dioxinivalenol (DON) en granos de trigo. Los fungicidas fueron aplicados en tres estados de desarrollo del cultivo: espigazón, antesis y grano lechoso en la variedad Canindé 13. Todos los fungicidas evaluados (Tebuconazole, Metconazole + Epoxiconazole, Azoxystrobin, Fluxapyroxad + Epoxyconazole + Pyraclostrobin, Azoxystrobin + Benzovindiflupir) disminuyeron significativamente en promedio los niveles de índice de infección del FET y aumentaron el rendimiento y peso de mil granos comparados al testigo sin control químico. La mayoría de los tratamientos que incluyeron estrobilurinas en su composición resultaron con los niveles más altos de DON (4,07-4,27 ppm) en granos de trigo. Entre los fungicidas evaluados, el Tebuconazole presentó el menor (1-1.5 ppm) nivel de concentración de DON en granos.
 
Citas
Alberione, E. J., Ortega, L. M., Salines, N., Astoreca, A. L. & Alconada, T. M. (2016). Comportamiento genético de diversos genotipos de trigo frente a Fusarium graminearum. Agrociencia, 50 (3), 335-346.
Amarashinghe, C., Tamburic-Ilincic, L., Gilbert, J., Brûlé-Babel, A. L. & Dilantha, W.G. (2013). Evaluation of different fungicides for control of Fusarium head blight in wheat inoculated with 3ADON and 15ADON chemotypes of Fusarium graminearum in Canada. Canadian Journal of Plant Pathology, 35(2), 200-208. doi: 10.1080/07060661.2013.773942.
Arrúa Alvarenga, A., Moura Mendes, J., Cazal Martínez, C., Dujak Riquelme, C. E., Fernández Ríos, D., Oviedo de Cristaldo, R. M. & Kohli, M. M. (2014). Incidencia de hongos del complejo Fusarium gramínearum y acumulación Deoxinivalenol en líneas de trigo. Investigación Agraria, 16(1), 43-48.
Arrúa, A. A. (2015). Avances en la investigación de la fusariosis de la espiga en Paraguay. En: M. M. Kohli, L. E. Cubilla & G. Cabrera (Eds.). Quinto Seminario Nacional de Trigo: del Grano al Pan (pp. 139-150). Asunción: CAPECO, INBIO.
Baturo-Cieśniewska, A., Lukanowski, A. & Kolenda, M. (2011). Effect of fungicide application on wheat head blight occurrence of Fusarium spp and micotoxin production. Plant Breeding and Seed Science, 63(1). doi: 10.2478/v10129-011-0013-2
Bissonnette, K. M., Kolb, F. L., Ames, K. A. & Bradley, C. A. (2018). Effect of Fusarium Head Blight Management Practices on Mycotoxin Contamination of Wheat Straw. Plant Disease, 102 (6), 1141-1147. doi: 10.1094/PDIS-09-17-1385-RE
Blandino, M. A, Pilati, A. & Reyneri, A. (2009). Effect of foliar treatments to durum wheat on flag leaf senescence, grain yield, quality and deoxynivalenol contamination in North Italy. Field. Field Crop Research Journal, 114(2), 214-222. doi: 10.1016/j.fcr.2009.08.008
Blandino, M. A., Haidukowski, M., Pascale, M., Plizzari, L., Scudellari, D. & Reyneri, A. (2012). Integrated strategies for the control of Fusarium head blight and deoxynivalenol contamination in winter wheat. Field Crop Research Journal, 133(2012), 139-149. doi: 10.1016/j.fcr2012.04.004
Deuner, C. C., Viana, E., Nicolodi Camera, J., Camera, J. N. & Melo Reis, E. (2015). Resistência de cultivares de trigo à giberela mediante inoculação artificial em espiguetas. Summa Phytopathologica, 41(3), 202-206. doi: 10.1590/0100-5405/1994
Di Rienzo, J.A., Casanoves, F., Balzarini, M.G., Gonzalez, L., Tablada, M. & Robledo, C.W. (2013) InfoStat Versión. InfoStat Group, Facultad de Ciencias Agropecuarias, Universidad Nacional de Córdoba, Argentina.
Gagkaeva, T. Y., Orina, S. A., Gavrilova, O. P., Ablova, I. B. & Bespalova, L. A. (2018). Characterization of resistance of winter wheat varieties to Fusarium head blight. Vavilov Journal of Genetics and Breeding. 22. 685-692. doi: 10.18699/VJ18.411
Garmendia, G., Pattarino, L., Negrín, C., Martínez-Silveira, A., Pereyra, S., Ward, T. J. & Vero, S. (2018). Species composition, toxigenic potential and aggressiveness of Fusarium isolates causing Head Blight of barley in Uruguay. Food Microbiology, 76, 426-433. doi: 10.1016/j.fm.2018.07.005
Haidukowski, M., Pascale, M., Perrone, G., Pancaldi, D., Campagna, C. & Visconti, A. (2005). Effect of fungicides on the development of Fusarium head blight, yield and deoxynivalenol accumulation in wheat inoculated under field conditions with Fusarium graminearum and Fusarium culmorum. Journal of the Science of Food and Agriculture, 85, 191-198. doi: 10.1002/jsfa.1965
Ioos, R., Belhadj, A., Menez, M. & Faure, A. (2005). The effects of fungicides on Fusarium spp. and Microdochium nivale and their associated trichothecene mycotoxins in French naturally-infected cereal grains. Crop Protection, 24(10), 894-902. doi: 10.1016/j.copro.2005.01.014
Martínez, M., Castañaresa, E., Dinolfo, M. I., Pacheco, W. G., Moreno, M. V. & Stenglein, S. A. (2014). Presencia de Fusarium graminearum en muestras de trigo destinado al consumo humano. Revista Argentina de Microbiología, 46(1), 41-44. Recuperado de: http://org/articulo.oa?id=213030865012
Nielsen, L. K., Cook, D. J., Edwards, S. G. & Ray, R. V. (2014). Prevalence and impact of Fusarium head blight pathogens and mycotoxins on malting barley quality in UK. International Journal of Food Microbiology, 179(100), 38-49. doi: 10.1016%2Fj.ijfoodmicro.2014.03.023
Paul, P. A., Lipps, P. E., Hershman, D. E., McMullen, M. P., Draper, M. A. & Madden L.V. (2008). Efficacy of triazole-based fungicides for Fusarium head blight and deoxynivalenol control in wheat: A multivariate meta-analysis. Phytopathology, 98(9), 999-1011. doi:10.1094/PHYTO-98-9-0999
Quintana, L. & Morel, W. (2004). Especies de Fusarium en semilla de trigo en el Paraguay. En: Memorias Jornadas Técnicas Cincuentenario CRIA (pp.102-103). Capitán Miranda, Paraguay: MAG/DIA/CRIA.
Quintana Viedma, L. (2012). Germoplasma de trigo resistente a la fusariosis de la espiga del trigo (Fusarium graminearum) con bajo contenido de micotoxina. En: Tropical Plant Pathology 37 (Suplemento) 45º Congreso Brasilero de Fitopatología. Manaus, AM.
Stack, R. W. & McMullen, M. P. (1995). A visual scale to estimate severity of Fusarium head blight in wheat. NSDU Extension Service. North Dakota State University. Recuperado de https://library.ndsu.edu/ir/bitstream/handle/10365/9187/PP1095_1998.pdf?sequence=1
Reis, E. M., Baruffi, D., Remor, L. & Zanatta, M. (2011). Decomposition of corn and soybean residues under field conditions and their role as inoculum source. Summa Phytopathologica, 37(1), 65-67. doi: 10.1590/S0100-54052011000100011.
Scarpino, V., Reyneri, A., Sulyok, M., Krska, R. & Blandino, M. (2015). Effect of fungicide application to control Fusarium head blight and Fusarium and Alternaria mycotoxins in winter wheat (Triticum aestivum), World Mycotoxin Journal, 8(4), 499-510. doi: 10.3920/WMJ2014.1814
Umpierrez-Falaiche, M., Garmendia, G., Pereyra, S., Rodríguez, A., Ward, T. J. & Vero, S. (2013). Regional differences in species composition and toxigenic potential among Fusarium head blight isolates from Uruguay indicate a risk of nivalenol contamination in new wheat production areas. International Journal of Food Microbiology, 166(1), 135-140. doi: 10.1016/j.ijfoodmicro.2013.06.029
Wegulo, S. N. (2012). Factors influencing deoxynivalenol accumulation in small grain cereals. Toxins (Basel), 4(11):1157-80. doi: 10.3390/toxins4111157
Xu, X. M., Nicholson, P., Thomsett, M. A., Simpson, D., Cooke, B. M., Doohan, F. M., Brennan, J., Monaghan, S., Moretti, A., Mule, G., Hornok, L., Beki, E., Tatnell, J., Ritieni, A. & Edwards, S. G. (2008). Relationship between the fungal complex causing Fusarium head blight of wheat and environmental conditions. Phytopathology, 98(1), 69-78. doi: 10.1094/PHYTO-98-1-0069
Zadoks, J. C., Chang, T. T. & Konzak, C. F. (1974). A decimal code for the growth stages of cereals. Weed Research, 14, 415–421. doi: 10.1111/j.1365-3180.1974.tb01084.x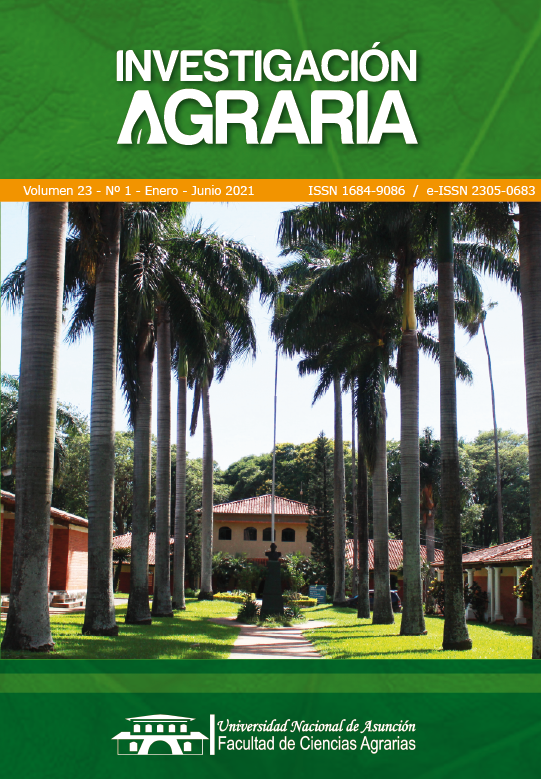 Cómo Citar
SCHOLZ, Ruth Fabiola et al. Control químico de Fusariosis de la espiga del trigo y su efecto sobre los componentes de producción y calidad de granos.
Investigación Agraria
, [S.l.], v. 23, n. 1, p. 32-39, aug. 2021. ISSN 2305-0683. Disponible en: <
https://www.agr.una.py/revista/index.php/ria/article/view/559
>. Fecha de acceso: 29 jan. 2022
Sección
NOTAS DE INVESTIGACIÓN
Esta obra está bajo licencia internacional
Creative Commons Reconocimiento 4.0
.
Todo el contenido de esta revista, está bajo Licencia de Atribución Creative Commons.