Efecto de fungicidas sobre la antracnosis (Colletotrichum fragariae Brooks) en plantines de frutilla [Fragaria × ananassa (Duchesne ex Weston) Duchesne ex Rozier]
Marcial Adorno Chávez

Universidad Nacional de Asunción, Facultad de Ciencias Agrarias, Área Protección Vegetal. San Lorenzo, Paraguay.

Laura Concepción Soilán Duarte

Universidad Nacional de Asunción, Facultad de Ciencias Agrarias, Área Protección Vegetal. San Lorenzo, Paraguay.
Resumen
La alta rentabilidad y adaptabilidad que presenta la frutilla en Paraguay se ven afectados negativamente por el aumento progresivo de la incidencia de la antracnosis en la planta. Con el fin de seleccionar un fungicida que controle eficazmente la enfermedad, se evaluó el efecto de los productos y para ello, se llevaron a cabo dos experimentos, en laboratorio e invernadero de la Facultad de Ciencias Agrarias de la Universidad Nacional de Asunción. En el experimento in vitro, se determinó el porcentaje de inhibición micelial, se establecieron 22 tratamientos y ocho repeticiones que consistieron en diferentes fungicidas y el testigo; la unidad experimental estaba constituida por una placa de Petri. En el experimento in vivo se determinó la incidencia, severidad, intensidad de daño, contenido de clorofila y NDVI; los 13 tratamientos y cinco repeticiones estuvieron conformados por los diferentes fungicidas y un testigo; la unidad experimental consistió en tres plantas de frutilla. Para ambos experimentos se utilizó el diseño completamente al azar. Los datos obtenidos fueron sometidos al análisis de varianza y al Test de Tukey al 5%. Los resultados in vitro indicaron que los fungicidas triazoles, estrobilurinas, en mezclas; y el mancozeb inhibieron el 100% de Colletotrichum fragariae. En condiciones in vivo, el efecto de los productos Tebuconazole+Trifloxystrobin, Trifloxystrobin+Cyproconazole, Mancozeb y Azoxystrobin+Propiconazole+Difenoconazole sobre la incidencia fue moderada y redujeron en un 51-63% la severidad y en un 60-77% la intensidad de daño de la antracnosis. Las plantas que fueron tratadas con Tebuconazole+Trifloxystrobin presentaron mayor contenido de clorofila.
Citas
Agrios, GN. 2011. Fitopatología. 2 ed. Balderas, ME. Mexico, Limusa. 821 p.
Basulto, FS; Díaz Plaza, R; Gutiérrez Alonso, O; Fernández, JS; Larqué Saavedra, A. 2011. Control of two species of Colletotrichum causing anthracnose in Maradol papaya fruits. Revista Mexicana de Ciencias Agrícolas 2(5):631-643.
Daugovish, O; Su, H; Gubler, WD. 2009. Preplant fungicide dips of strawberry transplants to control anthracnose caused by Colletotrichum acutatum in California. HortTechnology 19(2):317-323.
Delp, BR; Milholland, RD. 1981. Susceptibility of strawberry cultivars and related species to Colletotrichum fragariae. Plant Disease 65:421-423.
Díaz, MD; Pinheiro, VF; Corrêa Café-Filcho, A. 2016. Impact of anthracnose on the yield of soybean subjected to chemical control in the north region of Brazil. Summa Phytopathologica 42(1):18-23.
ERC (Economic Research Council, UK). 2016. ECR Research Papers (en línea). Inglaterra. Consultado 19 nov. 2016. Disponible en http://www.ercouncil.org/research-papers/
España-Boquera, ML; Cárdenas-Navarro, R; López-Pérez, L; Castellanos-Morales, V; Lobit, P. 2006. Estimating the nitrogen concentration of strawberry plants from its spectral response. Communications in Soil Science and Plant Analysis 37:2447-2459.
Forcelini, BB; Seijo, TE. 2016. Resistance in strawberry isolates of Colletotrichum acutatum from Florida to quinone-outside inhibitor fungicides. Plant Disease 100(10):2050-2056.
FRAC (Fungicide Resistance Action Committee, Estados Unidos). 2013. List of plant pathogenic organisms resistant to disease control agents (en línea, sitio web). Consultado 28 ene. 2017. Disponible en: www.frac.info
France, A. 2013. Manejo de Enfermedades en Frutilla. In INIA (Instituto de Investigaciones Agropecuarias, Chile). 2013. Boletín INIA Nº 262. Manual de Frutilla. Undurraga Díaz, P; Vargas Schuldes, S (eds.). Chillán, Chile, Centro Regional de Investigación Quilamapu.
French, ER; Hebert, TT. 1980. Métodos de investigación fitopatológica. San José, Costa Rica. IICA. 277 p.
González, LC; Muiño García, BL; Lorenzo Nicao, ME; Rodríguez Fernández, A; Gómez Albernal, M. 2011. Efecto in vitro de siete fungicidas químicos sobre Beauveria bassiana (Bals.) Vuil. Fitosanidad 15(1):31-38.
Jaleel, CA; Ragupathi, G; Panneerselvan, R. 2008. Biochemical alterations in white yam (Dioscorea rotundata Poir.) under triazole fungicides: Impacts on tuber quality. Czech Journal of Food Sciences 26(4):298-307.
Kumar, AS; Reddy, NPE; Reddy, KH; Devi, MC. 2007. Evaluation of fungicidal resistance among Colletotrichum gloeosporioides isolates causing mango anthracnose in Agri Export zone of Andhra Pradesh, India. Plant Pathology Bulletin 16(3):157-160.
Leandro, LFS; Gleason, ML; Wegulo, SN; Nutter, FW. 2002. Survival and sporulation of Colletotrichum acutatum on symptomless strawberry leaves. Acta Horticulturae 567:627-629
Leandro, LFS; Gleason, ML; Nutter, FW; Wegulo, SN; Dixon, PM. 2003 Influence of temperature and wetness duration on conidia and appressoria of Colletotrichum acutatum on symptomless strawberry leaves. The American Phytopathological Society 93(4):513-520.
Li, H; Li, T; Gordon, R; Asiedu, S; Hu, K. 2010. Strawberry plant fruiting efficiency and its correlation with solar irradiance, temperature and reflectance water index variation. Environmental and Experimental Botany 68(2) : 165-174.
MacKenzie, SJ; Mertely, JC; Peres, NA. 2009. Curative and protectant activity of fungicides for control of crown rot of strawberry caused by Colletotrichum gloeosporioides. Plant Disease 93 (8) :815-820.
MAG (Ministerio de Agricultura y Ganadería, Paraguay). 2016. Síntesis estadísticas: Producción agropecuaria. San Lorenzo, Paraguay, MAG. 51 p.
Mondino, P. 2012. Resistencia a fungicidas: Conceptos y manejo (diapositiva). Uruguay. 1 Diapositiva 21 transparencias. Consultado 13 mar. 2017. Disponible en https://studylib.es/doc/5743328/resist encia-a-fungicidas.
Mouden, N; Chliyeh, M; Benkirane, R; Ouazzani, A; Douira, T; Douira, A. 2016. Chemical control of some strawberries fungal pathogens by foliar fungicides under in vitro and in vivo conditions. International Journal of Recent Scientific Research 7(2):9037-9051.
Moustafa, MSH; Hala, AM; El-Dakar, M; Asmaa, M. 2015. Pestalotia leaf spot a new disease affect guava trees in Egypt. International Journal of Scientific & Engineering Research 6(10):1306-1312.
Nam, MH; Kim, HS; Nam, YG; Peres, NA; Kim, HG. 2011. Fungicide spray program to reduce application in anthracnose of strawberry. Research Plant Disease 17(3):295-301.
Noling, JW; Schumann, AW; Cody, M. 2010. Assessing field distribution, crop impact and sting nematode management in Florida strawberry. Annual International Research Conference on Methyl Bromide Alternatives and Emissions Reductions Florida : 46-51.
Novichonok, EV; Novichonok, AO; Kurbatova, JA; Markovskaya, EF. 2015. Use of the atLEAF+ chlorophyll meter for a nondestructive estimate of chlorophyll content. Photosynthetica 53(1):1-8.
Pérez-León, G; Castillo-Matamoros, R; Chavarría-Pérez, L; Brenes-Angulo, A; Gómez-Alpízar, L. 2015. Combate químico de la antracnosis de Sansevieria trifasciata var. Hahnii en un sistema de hojas separadas. Agronomía Mesoamericana 26(2):305-313.
Perlot, H; Amsalem, L; Elad, Y. 2007. Effect of chemical pesticides and biocontrol agents on growth and mineral composition of healthy strawberries. Biological control of fungal and bacterial plant pathogens 30(6):269-272.
Quevedo Damian, I. 2012. Evaluación de fungicidas sistémicos y de contacto en el control de la moniliasis (Moniliophthora roreri) del cacao (Theobroma cacao). Tesis M. Sc. Tabasco, México, Colegio de Postgraduados. 86 p.
Scribano, FR; Garcete, V. 2016. Eficiencia de fungicidas de síntesis y orgánicos sobre la pudrición de corona del fruto de banano Musa acuminata Colla en la provincia de Formosa, Argentina. RIA 42(2):201-206.
Shukla, RS; Abdul, K; Alam, M. 2010. Chemical control of blossom blight disease of sarpagandha caused by Colletotrichum capsici. African Journal of Biotechnology 38:6397-6400.
Silva Pesqueira, A Da; Arruda Bacchi, LM; Gavassoni, WL. 2016. Associação de fungicidas no controle da antracnose da soja no Mato Grosso do Sul. Revista Ciencia Agronomica 47(1):203-212.
Silveira Baggio, J. 2016. Fungicide sensitivity and spatial and temporal dynamics of Botrytis cinerea and Colletotrichum spp. in conventional and organic strawberry fields. Tesis Ph.D. Tesis. Piracicaba, BR, Luiz de Queiroz College of Agriculture. 152 p.
Smith, BJ. 2008. Epidemiology and pathology of strawberry anthracnose: A north american perspective. HortScience 43(1):69-73.
Tanaka, MA de Souza; Passos, FA; Betti, JA; Matos Pires, RC de. 2001. Métodos de inoculação de Colletotrichum fragariae em morangueiro. Scientia Agricola 58(4):725-729.
Tassawar Abbas , H; Talib, S; Habib, A; Ahmed, S. 2016. Laboratory evaluation of fungicides and plant extracts against different strains of Colletotrichum falcatum the cause of red rot of sugarcane. Journal of Agricultural Sciences 53(1):181-186.
Trimble. 2016. Farm Work Software (en línea). Consultado en 27 feb. 2017. Disponible en http://www.farmworks.com/products/greenseekerhandheld
Uebel, JD. 2015. Avaliação de fungicidas no controle de doenças foliares, grãos ardidos e efeito no ndvi (índice de vegetação por diferença normalizada) em híbridos de milho. Tesis M. Sc. Tesis. Brasilia, Brasil, Universidade de Brasília.119 p.
Urdaneta, L; Sanabria, M; Rodríguez, D; Pérez de Camacaro, M. 2013. Antracnosis causada por Colletotrichum acutatum Simmonds en frutos de fresa en los estados de Lara y Trujillo, Venezuela. Revista de la Facultad de Agronomia 30 (4):504-528.
Wharton, PS; Diéguez-Uribeondo, J. 2004. The biology of Colletotrichum acutatum. Anales del Jardín Botánico de Madrid. 61(1):3-22
Wilson, LL; Madden, LV; Ellis, MA. 1990. Influence of temperature and wetness duration on infection on immature and mature strawberry fruit by Colletotrichum acutatum (en línea). Phytopathology 80(1):111-116. Consultado 17 abr. 2017. Disponible en https://www.apsnet.org/publica tions/phytopathology/backissues/Documents/1990Articles/Phyto80n01_111.PDF
Zhu, J; Tremblay, N; Liang, Y. 2012. Comparing SPAD and atLEAF values for chlorophyll assessment in crop species. Canadian Journal of Soil Science 92:645-648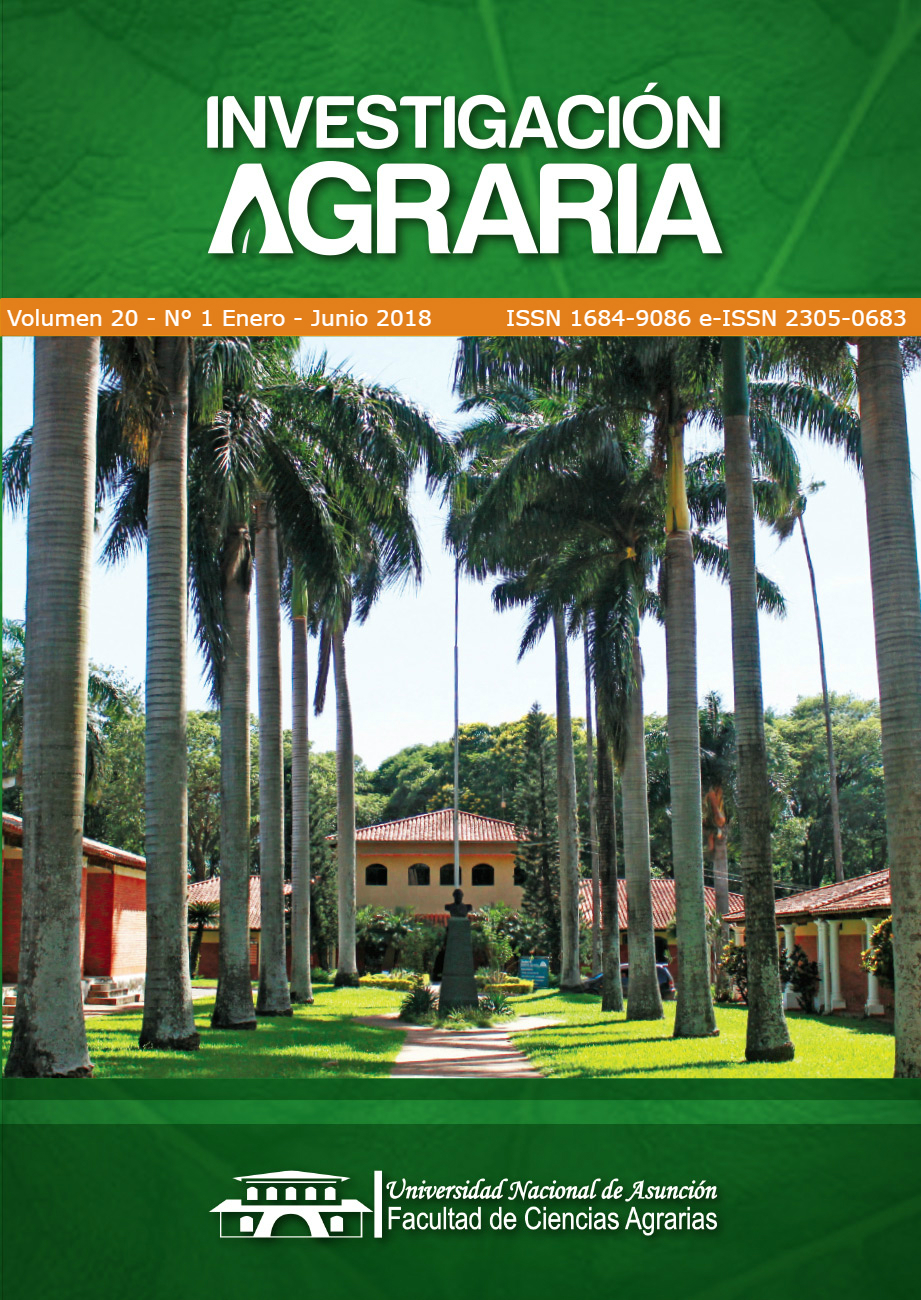 Cómo Citar
ADORNO CHÁVEZ, Marcial; SOILÁN DUARTE, Laura Concepción. Efecto de fungicidas sobre la antracnosis (Colletotrichum fragariae Brooks) en plantines de frutilla [Fragaria × ananassa (Duchesne ex Weston) Duchesne ex Rozier].
Investigación Agraria
, [S.l.], v. 20, n. 1, p. 38-50, july 2018. ISSN 2305-0683. Disponible en: <
https://www.agr.una.py/revista/index.php/ria/article/view/462
>. Fecha de acceso: 29 jan. 2022
Sección
ARTÍCULOS CIENTÍFICOS
Esta obra está bajo licencia internacional
Creative Commons Reconocimiento 4.0
.
Todo el contenido de esta revista, está bajo Licencia de Atribución Creative Commons.